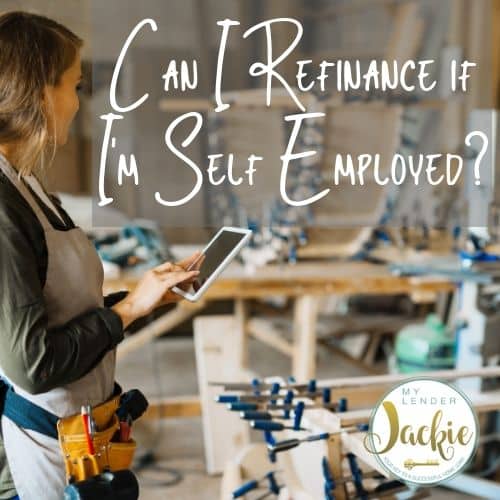 The stated income home loans or self-employment home loans are a great option for anyone that is self-employed but I've been asked a lot frequently if self-employed individuals can refinance under this type of loan. Sometimes qualifying for a mortgage can be difficult if you're self-employed and when you refinance you literally pay off the old loan and start an entirely new one. People might do this for a variety of reasons either lowering their current monthly payment, cashing out some equity for home improvements or other costs, or changing the terms such as going from a 30-year loan to a 15-year loan. Applying for a loan or refinancing is not as difficult as you might think for those that are self-employed. Even if you don't have a steady income there are ways to apply and qualify for a refinance.
Lenders want to see some consistency in income and we do that by checking out one to two years worth of bank statements. You may not have a typical W-2 but your tax return and bank statements can provide the income necessary to qualify for a home loan.
Borrowers have the ability to qualify based on a 12 or 24 month average of deposits using their personal and/or business bank accounts. Tax returns are typically not required with this type of loan but borrowers should have a minimum of the 600 credit score and up to 90% loan to value allowed on personal and business accounts. The minimum loan amount is $150,000 with a maximum jumbo loan of $3 million.
There are multiple benefits to this type of loan, not just the bank statement perks. There are no prepayment penalties, interest-only options are available, gift funds are allowed for closing costs, and even borrowers who have had recent foreclosures, bankruptcies, or short sales can be approved with proper explanation.
This refinance option works for condominiums, townhouses, multi-family IE: 2-4 Plex and owner-occupied homes and cash out refinance can be used for home improvements. This is typically a 2 to 4-week average close time but most of my loans get close around three weeks.
If you are considering a refinance on your Southern California home, contact me today to find out more about refinancing if you are self-employed. I can walk you through all the options and we can discuss a few prequalification questions over the phone.
Refinancing, getting the cash you need, or lowering your terms is easier than you think.
Get Pre-Approved
No Hidden Fees - No Obligation - No Upfront Costs