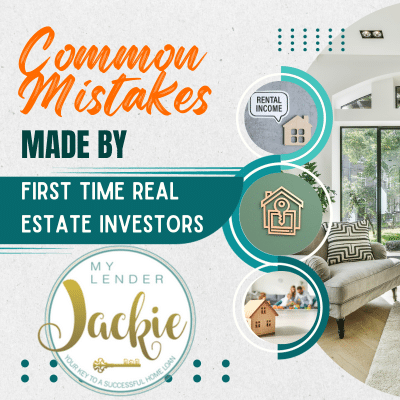 Investing in real estate is one of the best ways to diversify your portfolio and build passive income. Buying even just one investment property can totally change the financial future of both yourself and your children.
There are several common mistakes made by first-time real estate investors, due to their lack of experience and knowledge in the real estate market. Avoiding these common pitfalls can help you enjoy success more quickly, and we can help. Contact us any time to learn more about loans available for investors, and keep reading for some of the top mistakes real estate investors make, and how to avoid them.
Common Mistakes of First Time Real Estate Investors
1. Assuming they can't qualify yet
If real estate investing is something you plan for the future, don't make the common mistake of assuming you are not yet ready. With creative financing solutions like our cash flow mortgages and bank statement mortgages, you may find that even as a self-employed person or someone without the income to qualify for another conventional mortgage, you're ready to invest.
Think of investing in an income property as something totally distinct from buying a personal home. The financing available to you and the entire process will differ, so don't assume that you won't qualify. Take just a few minutes to talk with a loan officer and find out if you're ready and what you need to do next if you are not.
2. Skipping due diligence
Skipping proper due diligence, such as property inspections, title searches, and financial analysis, can result in unexpected issues and expenses after the purchase and is one of the easiest mistakes to make as a real estate investor.
Don't assume that everything will work out, but do your research and make smart, confident decisions.
3. Underestimating work and expenses involved
Having overly optimistic expectations about rental income, property appreciation, or the timeline to achieve profits can lead to disappointment. It's essential to set realistic goals and timelines.
Buying an investment property that needs work, whether it is a true fixer upper or just in need of some cosmetic updates, can be a great way to build instant equity. Just make sure you have realistic expectations about the resources required.
4. Overlooking research in the location
Failing to thoroughly research the local real estate market, property values, rental rates, and neighborhood dynamics can lead to poor investment decisions. It's crucial to understand the area you're investing in and stay informed about market trends.
5. Poor property management
Neglecting proper property management, including tenant screening, maintenance, and communication, can result in higher turnover, property damage, and legal issues.
Consider hiring a reputable property manager if you're not experienced in this area or if you want a truly passive income source. Even if outsourcing the management takes a portion of your profit that you were not originally planning, you are likely to find that it's work every penny to make sure your asset is protected and your tenants are happy.
6. Emotional decision-making
Letting emotions dictate investment decisions, such as buying a property because it feels "right" or selling due to a personal attachment, can lead to poor financial outcomes. Real estate should be viewed as an investment, not an emotional purchase.
To help avoid emotionally-based decisions, make a clear list of what you are looking for, what you would like to spend, and other relevant criteria to guide your decisions as you begin the house hunting process. This list should include deal-breakers and red flags that you (and your investing partner, if applicable) identify before shopping for the property.
7. Only looking at conventional loans
Conventional mortgage options work for some investors, but they are not the only option. We can help you find the right fit for you, and you may be surprised at what's available.
Bank statement loans for self-employed borrowers can be the ideal solution if you know you can afford the investment but do not have the W-2 or pay stubs to verify. Instead, we look at your recent bank statements to see your financial standing and qualify you based on that immediate data.
Cash flow mortgages are another great option for investors. This type of loan is qualified based on the predicted monthly income of the rental property rather than your personal income.
If you want to learn more about the loan options available to you, get in touch with us any time.