Should You Refinance in 2023? – The refinancing storm of the past few years has calmed down significantly as the FED has raised the federal funds rate, but that doesn't mean your opportunity to refinance has necessarily passed. There are still some people who would benefit from refinancing in 2023, even with higher mortgage rates that we saw in 2020 and 2021.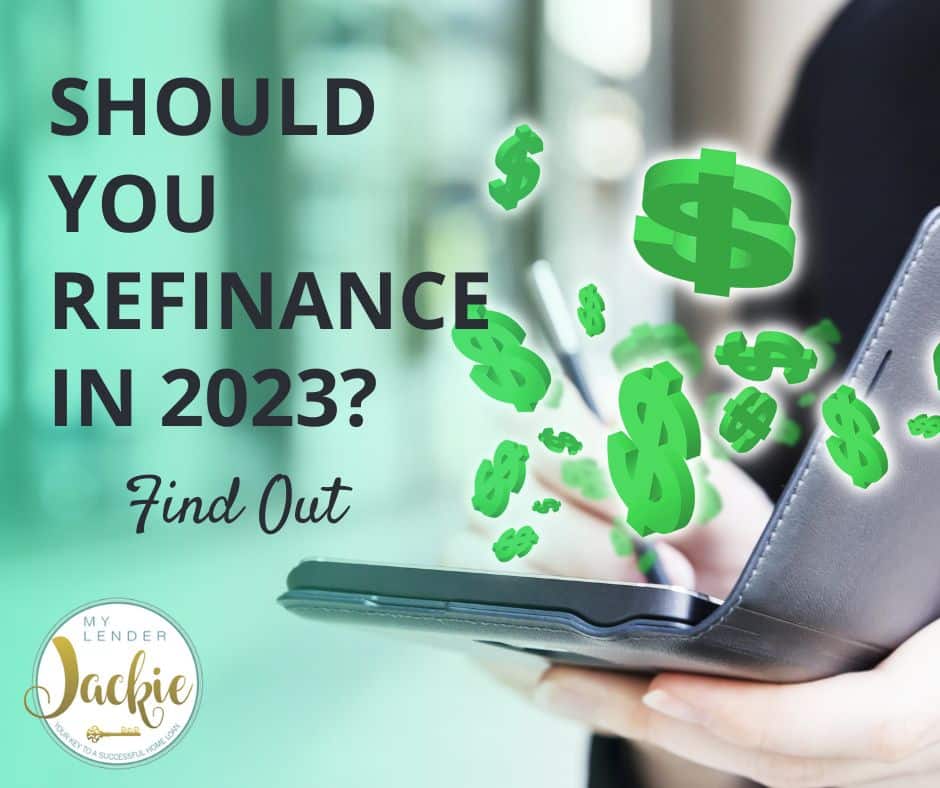 To learn more about whether refinancing will work in your favor this year, feel free to reach out to one of our loan officers with your questions any time. Even if you are in a unique situation, like refinancing as a self-employed person, we may be able to help you reach your goals this year. Contact us any time to learn more!
If one of these 4 descriptions fits you, it might be a good idea to learn more about refinancing in 2023.
Should You Refinance in 2023?
1. You haven't refinanced in the past few years and your interest rate is above 7%
Many Americans refinanced their mortgages in the past few years, taking advantage of historically low rates. If you didn't or couldn't take advantage of those rates, you may still be able to benefit from today's interest rates. While it is true that mortgage rates are rising, their remain low when we step back and look at average rates over the past few decades.
If your interest rate is currently 7% or higher, you may be able to save a significant amount of money on your monthly payment and over the life of your loan by refinancing.
2. You want to pay off your mortgage more quickly than your current plan
If you have a standard 30 year mortgage and are looking for a way to pay it off more quickly, you might want to refinance into a 15-year mortgage. In many cases, you can increase your monthly payment by a reasonable amount to save thousands in interest, and shave 15 years off your payment timeline.
This can free you up to pursue other financial goals in the future. Imagine being completely mortgage-free 15 years from now, and what you might be able to do if that were the case. Another benefit of a shorter-term mortgage is often lower interest rates. In the short term, refinancing to a 15-year mortgage from a 30-year mortgage won't feel like it is saving you money because your monthly payment will increase. However, when you look at the long term math you may be motivated by the ways this can help you reach your goals.
3. You want to get rid of PMI
If you purchased your home with less than a 20% down payment, you are likely paying private mortgage insurance (PMI) each month. Thanks to the steady increase in home values in recent years, you may have enough equity to refinance and cut that PMI payment.
Here's how it works. Let's say you bought a home valued at $500,000 with a 3.5% down payment of $17,500. Until you have paid $100,000 on the principal of your loan, you will be responsible to pay PMI each month. If the value of your home has now gone up to $650,000, you have gained $150,000 in equity. You may be able to refinance, taking enough of that equity out of the home and reinvesting it to get rid of your monthly PMI payments.
4. You want to leverage the equity in your home for other goals
Another perk of the equity that you have in your home is the way it can fund other goals. If you are planning a remodel or home improvement project, you might be able to use a cash-out refinance to fund the repair or renovation. Start by talking with a professional about the value of your home and the refinancing options available to you. Even if the interest rate on your refinanced mortgage is higher than your current rate, you may find that the numbers are favorable when compared to paying for that home project with a credit card or your own savings.
Ready to learn more about refinancing or to discover the basics of Should You Refinance in 2023, contact us any time.