It seems every week we hear something about money fraud or wiring fraud after real estate transactions and mortgage or financial transactions. In March of last year, the California Department of Real Estate issued a consumer alert and warning against timeshare fraud. There was an uptick in the number of scams against timeshare owners in connection with timeshare resales. There are endless variations of timeshare fraud and in most cases, it involves a scammer promising to buy or rent a timeshare in exchange for an upfront fee. But once the fee is paid, no sale, rental, or purchases completed and the scammer disappears with the money.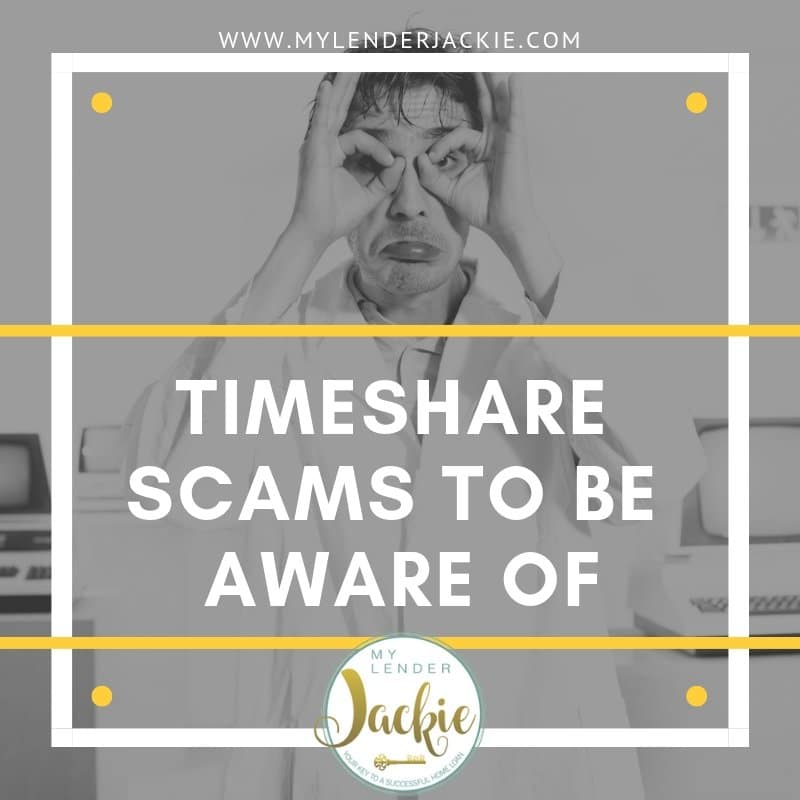 Because of the anonymity of the Internet, timeshare resale scams can be started and operated anywhere in the world. It could be operated by a group of telemarketers or even individuals that set up fake companies just to seem more legitimate. As with any alert, I want all of my clients and customers to be well aware of these red flags.
Be wary of anyone that offers to pay in cash only wire by wire transfer, money order, certified bank or cashier's check. This usually provides little recourse in the event that you pay money and it's a scam.
Many of these scammers are operating out of Mexico using American "front companies" or individuals that say they're from the Mexican government. Any time you are asked to send money to Mexico should be a huge red flag.
The law enforcement agency that has discovered a lot of these scammers has found that it targets more vacation timeshares in Mexico rather than anywhere else. Some of the properties identified have been Mayan Palace, Moon Palace, Groupo Palace, and the Grand Miramar. Several Mexican vacation resort properties have also been under attack. They will usually solicit the owner of the timeshare by either telephone or email and tell the owner that they have buyers or renters for their property or can market the property for sale.
Many of these scammers will use the names of companies that sound legitimate but are slightly off enough to be fraudulent. In addition, many of these scammers have been engaged in identity theft, obviously, and represent themselves as actual California real estate licensees. These criminals can use real estate brokers names and license numbers to attempt to legitimize the transaction. Many victims can even call the brokerage that is been set up specifically to scam unbeknownst victims.
What to do?
It is important that timeshare owners get the name of the person calling, emailing, or making the solicitation and look them up on the California Department of Real Estate website and locate a phone number for the licensee through the telephone company or genuine phone directory. Be sure that you can speak to a qualified licensee from a number that you did not get from the person calling.
Also, if anything seems too good to be true, it usually is. Your specific resort or timeshare could be aware of many of these new or ongoing scams so they may have a list of people to be aware of. Most of the time, these timeshare victims are enticed to wire funds to a company or individual in Mexico themselves, which seems legitimate since you would be renting to someone in Mexico. But any time you are asked to wire money from $2000-$100,000, be extremely wary of it.
What you can do if you've already been scammed.
Report the fraud and file complaints with the Department of Real Estate by contacting them at www.dre.ca.gov. The California Attorney Gen. if you reside in another state and you can also contact the District Attorney, local police, or local prosecutors. The Federal Trade Commission are also dedicated to prosecuting these timeshare scammers, the Consumer Financial Protection Bureau, the Better Business Bureau in your area and the FBI all can be used to file a complaint.
As with any solicitation, verify its validity before agreeing to send anyone funds. If it seems too good to be true, it probably is. We want all of our clients and customers to stay safe and to keep as much money in their pockets as possible. If you are interested in selling your timeshare contact a reputable and legitimate local real estate agent.
Find More information at DRE.CA.GOV
As Always Feel Free to CONTACT ME with Any Questions