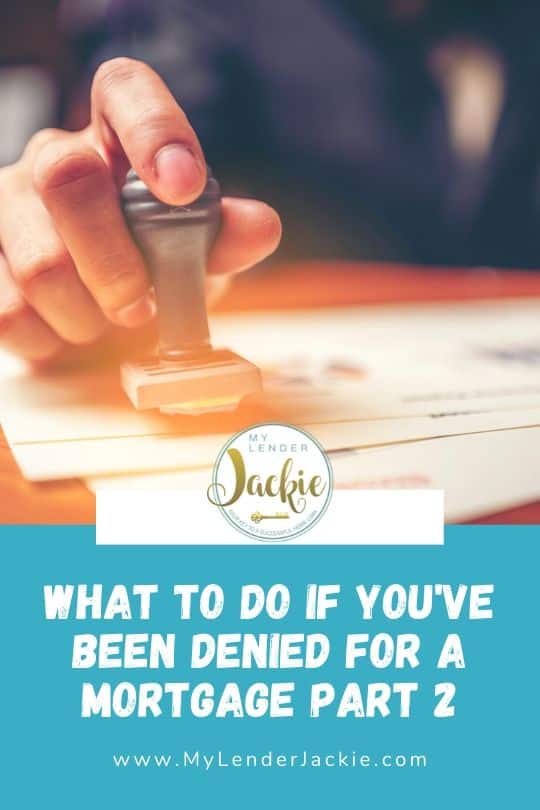 What to Do if You've Been Denied for a Mortgage Part 2 – If you have applied for a mortgage and have been denied, you are probably wondering why you were not approved and if there is any hope of you becoming a new homeowner in the future. In an earlier article (part 1) we talked about knowing in great detail your financial situation and why you may have been denied for a mortgage. In this article, we will talk about why it is important to know that information and how you can use it to apply for another mortgage to a different lender.  
Not all lenders have the same set of standards, rules, and requirements for underwriting. Some are less strict and restrictive than others. Some lenders have their own investor overlays. What are overlays? Overlays are added underwriting criteria put into place within the company. So it is their own added set of rules on top of the legally required regulations for approval of a loan.  
With this information in mind, if you have been turned down by one lender because of strict lender-specific overlays, you may qualify with a lender that has fewer or no overlays. Before you apply with a new lender you will want to ask for a very detailed explanation of why you were denied by the first lender you applied to. This information will help you to move forward in your next application process. It is always best to get a paper copy of these reasons to as clearly as possible explain your situation to the next lender. They can help you to discuss any ways in which you may be able to qualify for a new mortgage loan.  
Be as transparent as possible in your new application process. It may feel embarrassing, tiresome, or awkward to discuss these things with a new lender, but don't be shy about explaining your situation in detail.  You are not the only person that has ever been denied for a loan even if it feels like you are, lenders work with all types of applicants including those who have struggled to secure funding.  A good and trustworthy lender will not judge you, they will simply look at the facts and do their best to help you move on.  
Knowing every detail will help the next lender decide if it may be possible to find you a loan with different overlays. It could be the lender you applied with had a strict rule about credit score or even career history. The new lender may know of a different loan that does not require what your first one did.  It is better if the lender knows upfront if they can help you apply to a different type of loan than for them to go into the process unknowledgeable and you get denied again because they helped you apply for a very similar loan.  
 Related: How Much Home Can I Afford? – Money Magazine
When you get denied by a lender it can be discouraging and make you want to give up on the dream of owning a new home. Don't give up after the first denial, find a great mortgage broker that is knowledgeable in all of the loans available in your area. There is a chance they can find another lender with the right mortgage program for you, and it may even have better interest rates.  
For help finding the best California mortgage for you please contact me anytime. I would love to help.  
More Good Info:
Get Pre-Approved
No Hidden Fees - No Obligation - No Upfront Costs