As you prepare for buying a home in California in 2023, it helps to understand the typical home-buying process. Each person's journey to homeownership is unique, but there are some standard steps you can expect to take. We've laid it out below, and are always available to answer any questions you may have. Feel free to schedule an appointment with one of our loan officers or contact us any time!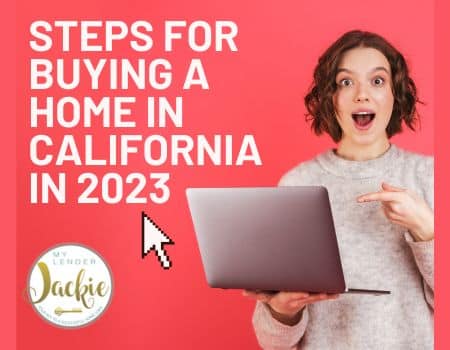 Look at Your Financial Health
When you apply to buy a home, your lender will look at a combination of financial factors to determine your approval status, including how much you can borrow and the mortgage interest rate you will have. The first step towards homeownership is looking at your current finances and identifying any area you may want to strengthen or improve before applying.
Some of the financial factors you may want to address include:
Credit score
Income and employment history
Liquid assets for down payment, closing costs, and home ownership expenses
After looking over these financial details, you can assess whether you are ready to apply for a mortgage or not. While each situation will vary, some general indicators that you are financially ready include:
A credit score of at least 620
A DTI of 43% or less
2 years of employment history
Enough cash on hand for a 5% down payment plus closing costs
If you are not sure about whether some of these financial factors are at the right place, we can help you figure it out. Don't hesitate to reach out for insight regarding what you need to do to financially prepare to buy a home in California.
Determine What You Can Afford
After you take a look at your finances, you will be ready to determine how much you can afford to spend on a house. There are two factors that determine the house you can afford to buy:
The amount your lender approves you to buy
The monthly payment you are comfortable with
Getting pre-qualified with a lender is easier than you think. Talk with one of our loan officers to find out what you are likely to be approved for, even before you submit all the documentation for official pre-approval.
Choose the Right Type of Mortgage for You
There are multiple types of mortgage, all offering different benefits to suit different situations. We can help walk you through multiple types of mortgage if you qualify for more than one.
Some of the mortgage types you may consider include:
Convention loans
FHA loans
USDA loans
VA loans
Self-employed loans (sometimes called bank statement loans or stated income loans)
Be Financially Smart During Escrow
After you have selected a real estate agent, found a house to put an offer on, and had that offer accepted, you will be in escrow. During the escrow process, the home will be appraised and inspected, and all of the financial details will be reviewed to make sure you can officially purchase the property.
During the escrow period, make sure to avoid these common mistakes that can affect your approval status:
Anything that will affect your credit score, like opening a new credit account or making a large purchase on credit
Taking on any new debt
Changing jobs
Ready to get started on your home buying journey? We are here to help. Contact us any time to learn more!