If you are a first- time home buyer, the process of getting a mortgage for a property can be daunting. It's really important if you are a buyer in Orange County, to work with a specialist to gather mortgage advice, before you enter a purchase contract/ mortgage agreement. In this latest article, Jackie Barikhan of Right Choice Mortgage, a trusted specialist, offers 5 mortgage advice tips for first-time buyers.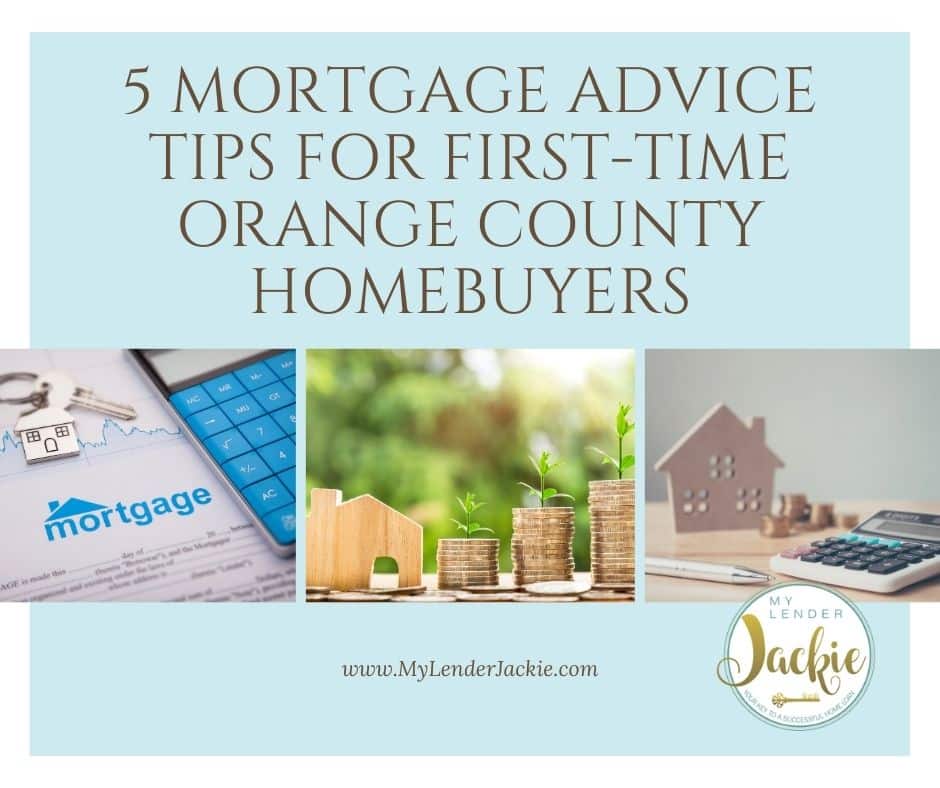 Set a Budget – Look at all expenses
Creating a set budget helps you understand a housing payment that is affordable given your current income and savings levels. Your budgeting process should begin several months before reviewing the local real estate marketplace, and it should be completed using all the latest tools available to first-time home buyers. Make sure you think about expenses beyond the PITI. Getting advice from a trusted mortgage loan expert will help all Orange County homebuyers achieve a greater depth of analysis on their current finances.
Trust Mortgage Advice from an Expert with Experience
Unfortunately, many first-time homebuyers find themselves locked into unfavorable mortgage terms because they're working with an inexperienced or out of the area loan agent. It's super important that first-time buyers review the market carefully and select companies and loan officers with multiple years of proven experience. The company you choose to work with should be able to detail how they've helped previous clients achieve their ideal mortgage, and have the reviews and recommendations of past clients to back it up. Take the time to Google them and check out online reviews like YELP, Facebook and Google.  They should also be able to offer a range of loan options to make sure you are getting the very best terms for your family.
Learn Loan Terms before Discussing Options
When entering the mortgage application process, you should have a comprehensive understanding on terms such as "fixed rate", "variable" and "balloon payments." Knowing these terms will help you establish a framework for the type of mortgage that best suits you. It will also help prevent you from overpaying on an unsuitable mortgage product.
Get a Comprehensive Pre-Approval
A pre-approval for a mortgage means that you have worked with a mortgage specialist to analyze your credit and ensure you have the funds in place to complete a seamless home purchase. Getting pre-approved shows the home seller that you are prepared and have the ability to complete the purchase with little work required on their behalf. Getting advice from a qualified Orange County mortgage expert, will provide the perfect foundation to your future home purchase.
Work with an Experienced Real Estate Agent
While getting a pre-approval is your first step toward homeownership, there are many other professionals involved in the process to make it a great experience. You will need an outstanding local real estate agent who is familiar with the nuances of the local market and who can help guide you toward the appropriate price range. Jackie Barikhan at Right Choice Mortgage can highly recommend a local agent to you to help with your home search. Just ask.
Gaining comprehensive knowledge on the mortgage approval process allows for flawless preparation for success.
To learn more, contact Jackie Barikhan directly at 949-600-0944 or visit her business website at www.mylenderjackie.com.
More Tips:
Get Pre-Approved
No Hidden Fees - No Obligation - No Upfront Costs