Some lenders are offering what seems to be a great relief to those hoping to purchase or refinance a home above California's $548,250 conventional mortgage loan limit. This is well ahead of the expected credit limit hikes to take place this month.
Some motivated mortgage lenders looking to help home buyers and owners are now issuing larger mortgage loans without passing on the quarter of a percent interest hike between a conventional loan and a higher balance jumbo loan.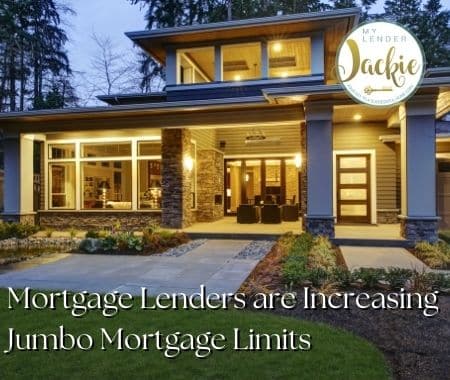 Mortgage Lenders are Increasing Jumbo Mortgage Limits
Mortgage companies like United Wholesale, PennyMac, and Rocket which is also known as Quicken are offering the same interest rates as Fannie Mae and Freddie Mac for loan amounts up to $625,000. This is a 14 percent increase or a dollar increase of $76,750 than the current conventional mortgage cap of $548,250 that is set by the federal loan backing giants Freddie and Fannie as part of the Federal Housing Finance Agency.
On September 30 a press release by United Wholesale Mortgage stated that they will now accept high-balance loans of up to $937,500 which is an increase of $115,125 above the current high-balance also referred to as the Fannie Mae jumbo/high-cost limit that begins at $822,375 in some areas of California that include Los Angeles County and Orange County.
Home prices all across the country and especially in California rose at a record pace over the course of the pandemic. Price gains in some areas have been shown to have increased by double digits over the last almost two years. In some areas, they increased an average of 11.3% in 2020 and a whopping 20.3% in 2021. The average price of a single-family home has increased by an average of around $200,000 in this period, which is somewhere around an average increase of $2,000 per week.
Jumbo-sized mortgages above the conventional limits set by Fannie, Freddie, and United Wholesale Mortgage, oftentimes come with a higher standard interest rate. The lenders that do offer jumbo loan mortgages have the ability to set their own rules, but most often stick to some industry standards. Many times, lenders will require a 10.1 % to 20% down payment. But with the new increased high balance loan amount, it is expected that many lenders are allowing just five or 10% down payment.
While jumbo loans do not qualify for backing from Fannie or Freddie, the underwriting engines are still being used for loan application approval which is allowing for a higher debt to income ratio of applicants of around 49%.
Every year at the end of November the FHFA announces new credit limits for the coming year. The Housing and Economic Recovery Act of 2008 helped to create a permanent formula for calculating new credit limits according to the agency. Once the FHFA announces its limits most lenders immediately accept interest freezes and finance mortgages based on the new announced credit limits.
So why are lenders jumping ahead of this formula? Some say it's a marketing ploy a way of getting a potential customer to become an actual customer for a jumbo mortgage. The best advice that financial experts have for those seeking jumbo loans is to actually continue to shop the market for the best options for you personally. Of course, the best way to shop around for all of your jumbo loan options in California is to use an experienced mortgage broker.
For more information on jumbo loans in California please contact me anytime.
More Important Info on Jumbo Loans