There are many reasons why we consider refinancing our mortgage loan, the main reason, of course, is the possibility of saving money on our monthly home payment. Before you actually refinance read through these common refinance mistakes to make sure refinancing is truly right for you and you receive the savings and benefits you were hoping for.
7 Common Mistakes to Refinancing
Mistake 1: Failing to do Homework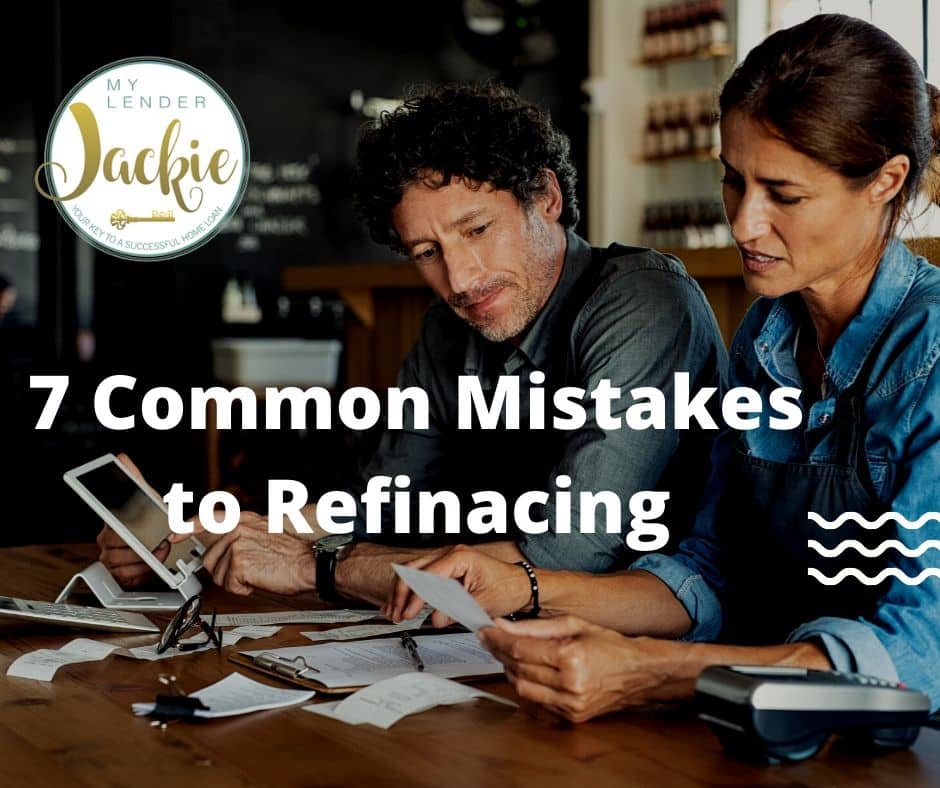 Before you have a lender go through the process, which requires pulling your current credit scores, do some research on the current market value of your home. Ask a trusted real estate agent to help you determine the fair market value of your home. Don't just rely on internet listing site estimates or real estate website calculators. These tools are handy, but some of them state they can be up to 8% off. You want the most accurate fair market value number. Once you have it, you can look up current mortgage rates from different lender sites and get a fairly accurate estimate using a refinance calculator.  If the new payment is not a significant change refinancing might not be a great move right now.  
Mistake 2: Obtaining New Credit or Stacking Up Debt
One of the first things a lender will do in the refinance process is to pull your credit score and then they will probably check it a second time just before the final settlement.  
Any major credit card purchases or purchases of new expensive items that resulted in financing all or part of the purchase prices will show as concerning when you go to apply for a refinance. These purchases could delay the process and you may be asked several seemingly probing questions or, in a worst-case scenario, you could be denied altogether.  
Every point on your credit score helps you to secure lower interest rates which translate to lower payments. A previous FICO study has shown that many people with credit scores of 700 or more, on average, have not opened a new line of credit in more than two years.  
So, if you are planning to refinance, maybe hold off on buying that new washer and dryer with the deal when you open the store's new credit card.  
Mistake 3: Low Credit Score
Though the FHA requires a credit score of just 500, most lenders have more strict overlays. An overlay is an extra requirement that the lender itself put into place. Make sure you know your credit scores before you talk with a lender and read it over closely to make sure the information on it is accurate. Nearly 20 percent of consumer credit reports have errors on them. Report any errors right away to get them fixed as soon as possible. Just a few points have the ability to lower your interest rate even half a percent which can translate into almost $ 100-month savings on your payment.   
Mistake 4: Not Shopping Around
It can be easy and simple to just refinance with the same lender, but you may not receive the best rate offered. Some people believe that their lender will automatically offer them a deal for sticking with them, while some companies may do this not all will. If your lender does offer a deal there still may be a better rate at a different company. Have a trustworthy mortgage broker look at everything available to you to help you find the best rate currently available.  
More: 7 Simple Steps to Refinancing
Mistake 5: Not Factoring in all the Costs
Having a lower monthly payment is the main focus of homeowners wanting to refinance, but the lower bill should not be the only thing you pay attention to. Look at every fee charged when comparing offers. (Mortgage brokers can help with this.) Some lenders offer zero closing costs on a refinance, but they may be wrapping those costs into your monthly payment in order to do it.  
Mistake 6: Not Considering the Break-Even Point
The break-even point is the amount of time in which the lower payments have paid of the fees of the refinance. For example, if the refinance is going to save you $100 a month, but you had to pay $4000 in fees you would divide the savings by the total amount of fees to get how many months it would take to get that money back through your savings. In this equation (4000 divided by 100) it would take 40 months or three years and three months to get the $4000 back and break even.  If you are not planning on staying in the home at least as long as your break- even it is not worth it.  
Mistake 7: Not Locking in a Rate
Mortgage rates change often. They can change within a matter of hours sometimes. Make sure you and your lender or broker are clear about when you want to lock in your rate. Locking a rate means the refinance is set at that rate and is not going anywhere. Sometimes people wait to see if the rates are going to dip just a bit more the next few days, but this is as uncertain as the stock market. So if the rate is good,  go ahead and lock it in. You don't want to end up paying more because you didn't lock it in.  
For more information on refinancing a mortgage in California or if refinancing your mortgage is right for you please contact me anytime.  
More Information on Refinancing: