House Flip Financing – What Options Are There? Quick climbs in home values have led to an interest in many homebuyers and investors looking at the possibility of house flipping. This is because the profit from purchasing a home, fixing it up in a short time frame, and quickly reselling it comes with a more promising prospect of a higher profit.
The website Go Banking Rates shared that currently, the average profit on house flipping was around $66,000 per home. With even just one house flip in a year, this is a pretty significant increase in income.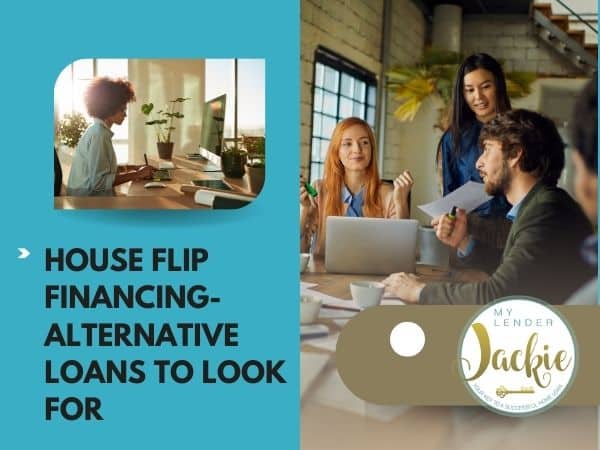 Unfortunately, house-flipping profits are likely to be minimized with the increase in mortgage rates. It mostly has an impact on those hoping to purchase potential flip homes through mortgage financing but it also makes an impact on the ability to resell to a buyer. Beyond the mortgage, there is also a long laundry list of other costs to consider when flipping homes.
Because of this, those hoping to flip homes and make it a significant and successful means for investors want to make sure they are finding the best loan to purchase a flip property possible. Often times this means going with an alternative loan outside of the traditional conventional loan offerings.
Here are five alternative House Flip Financing loans that could help home flippers to continue to make sound real estate investments
Hard money loans
A hard morning loan is a short-term non-QM mortgage loan most often loaned out from individuals or businesses that accept alternate forms of collateral through property or another asset. This is an option for those hoping to flip a home that may not have a stellar credit score but still have high-value assets in their portfolio.
Cash-out refinance
This involves using equity from another property that you already own to help you invest money in a new property that you plan to flip. This can be one of the cheaper financing options as it carries less risk for a lender to loan out the money.
Home equity line of credit or HELOC
This type of loan allows the borrower to use equity from their own primary residence as collateral. This loan will give the borrower a revolving line of credit based upon the equity in their current primary residence. Money will come in two phases called a draw period and a repayment period. The draw period is the time when you pay only interest on the line of credit while taking out the money that you need to pay for your purchase. The repayment period happens after the draw period has closed and you'll pay both the principal and interest back.
Home equity loan
Another way to utilize the equity in your current home is with a home equity loan. This is a type of second mortgage that you pay with a separate monthly payment in addition to your primary mortgage payment. This is different from the above cash-out refinance and HELOC. This is treated as a separate loan with its own separate payment. There are some advantages to these as well as drawbacks. Sometimes these types of loans come with a higher interest rate as compared to traditional mortgage loans.
The best loan product for home flipping investments really depends upon the individual borrower. The best option for finding the best home flipping loan for you is to work with an experienced mortgage broker in your area. Mortgage brokers make it their business to do the shopping for you and find the top choices available to you personally as a borrower.
For more information on all of your mortgage options in Mission Viejo in California please contact me anytime.
If this post was helpful, these might even be more so!