For many years the federal entities of Fannie Mae and Freddie Mac would back mortgages and purchase them from lenders within certain rules. Traditionally Fannie Mae and Freddie Mac set a limit on how much a mortgage lender can lend out for them to guarantee and back a mortgage. This year, in 2021, across many areas of the country, this limit was set at  $548,250 and at a higher limit of $822,375 in more expensive markets like here in Mission Viejo and other higher-priced markets of California.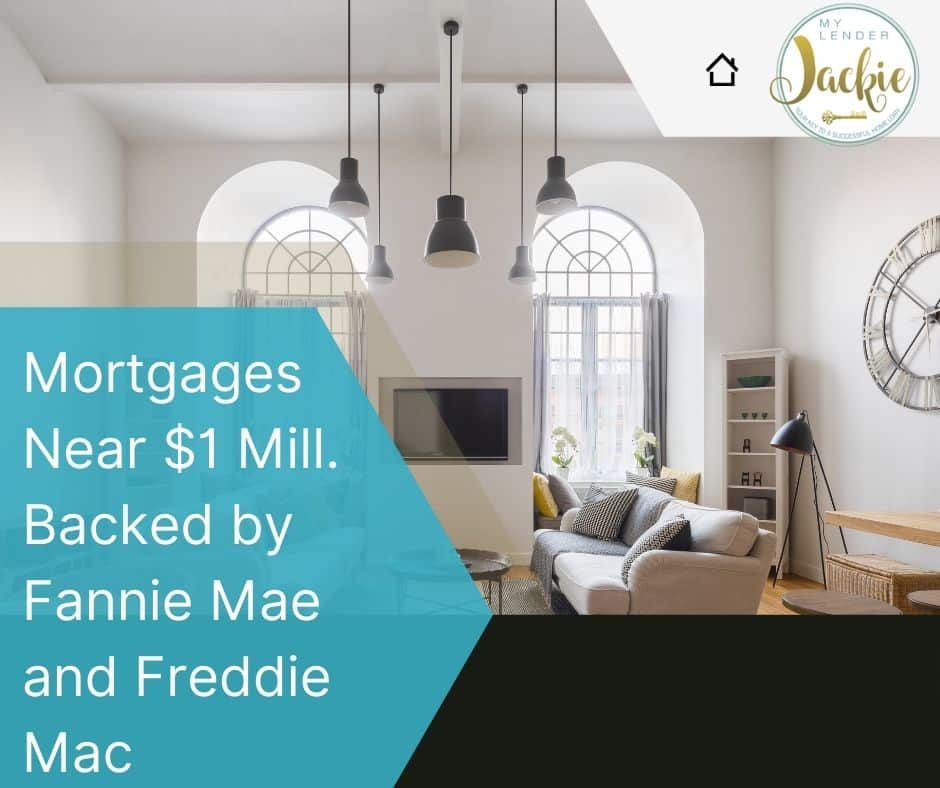 Anything lent out above these limits was called a non-conforming or jumbo loan and as such had a different set of qualifying rules. This led many Californians to need to seek out jumbo mortgages to purchase a home, especially over the last few years when home prices saw a hugely significant increase.  This was a major driver for Fannie Mae and Freddie Mac to make the decision to assume and provide guaranteed backing for mortgages close to $1 million.
Recently, the Federal Housing Finance Agency released a breakdown of the conforming loan limits for next year in 2022. These limits are the maximum allowable mortgage lending amounts that can be backed by Fannie Mae and Freddie Mac, anything larger than this of course would be called a jumbo loan.
For a majority of areas across the United States, the baseline limit for 2022 on conforming conventional loans for single-family homes that will be backed by Fannie Mae and Freddie Mac will be set at $647,200. This is an increase of almost $100,000 from the backing limit in 2021. This new limit will officially take effect on January 1, 2022.
Why the Increase in Conventional Mortgages?
The Federal Housing Finance Agency has based its increases on data it has received from its house price index that has shown an 18.05% increase on average in home prices across the country between the third quarter of 2020 and the third quarter of 2021.
In areas where there is a higher cost of living and the price of homes is traditionally and most often expected to be higher than the average American home, Fanny Mae and Freddie Mac will be supporting mortgages with higher amounts. These are areas such as Orange County and Los Angeles County, and right here in Mission Viejo California. According to law, the limit for a high cost real estate area must be set at 150% of the baseline limit and this means that Fannie and Freddie can back loans up to $970,800 in value, for higher priced markets.
The exact conforming loan limit varies from county to county across the country and according to the Federal Housing Finance Agency, there were only four counties in the country where loan limits did not increase. This is a clear indicator that home appreciation has been widespread all across the United States since the beginning of the pandemic. According to law, loan limits set by the FHFA cannot be reduced even should home prices decrease.
There has been some recent data showing that price growth has begun to slow just slightly. For the month of September 2021, it was the first month since May 2020 that showed a growth decrease. There are several real estate data reports that have shown a slight cooling off in the real estate market this fall though it is very, very slight. Many real estate experts have forecasted that the market going into 2022 will still see home prices increase, but not at the rate in which they did over the past year and a half.
For more information on all of your mortgage options in Mission Viejo and California, please contact me anytime. I am here to help you find the best and most creative mortgage option for your personal needs, including bank statement loans and jumbo loans.
More Advice
For help finding the right type of mortgage in California please contact me at any time.