Federal Reserve Actions Could Make Getting Mortgages Easier – Rates have been slowly climbing in response to the federal reserve stance on inflation but homebuyers shouldn't worry about having trouble qualifying for a mortgage loan in the months to come.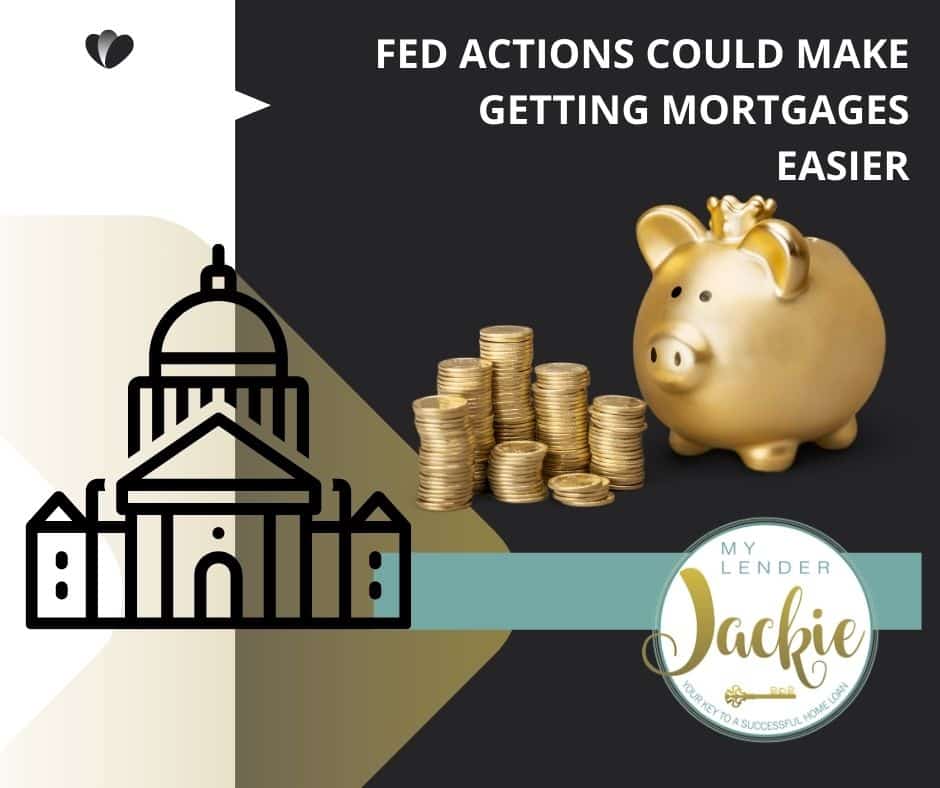 Currently, the 30-year fixed-rate mortgage is averaging around 3.12% which is up a few points from the previous few weeks as reported by Freddie Mac. This current average rate for 30-year fixed-rate loans is nearly half a percentage point higher than it was just a year ago.
A 15-year fixed-rate mortgage has dropped to an average of 2.34%. The five-year treasury index adjustable-rate mortgage is averaging at 2.45% which has been unchanged from recent previous weeks.
The Federal Reserve is planning to put less liquidity into the mortgage market
The slight increase in mortgage rates is said to be just the beginning of mortgage rate increases over the next year. The Federal Reserve is planning to scale back its stimulus activities at a quicker pace than expected due to high rates of inflation. Specifically, the central bank announced that it would reduce its purchase of mortgage-backed securities also referred to as MBS at a much quicker rate than they previously planned.
Previous purchases pumped a large amount of liquidity into the mortgage market and this allowed mortgage lenders to cut interest rates to historic lows though we were in the middle of a raging pandemic. This sparked a huge refinance wave and a large interest for homebuyers to purchase a new home. Without these purchases, banks will need to take a different approach and increase mortgage rates.
When it comes to the MBS market the federal reserve has been purchasing every single day and sometimes at multiple times per day. Over the past couple of years since the pandemic began the Fed has purchased essentially all of the new production of securities.
As time rolls on other investors are expected to come to the market and fill in the purchasing that the Federal Reserve is going to leave behind. It is expected to be unlikely that the MBS market will see the same consistency that the Fed gave it.
Many financial experts are expecting other buyers to come to the market but not to act in such stabilizing ways as the Federal Reserve did. Some days will see a large amount of purchasing of MBS and others will see little to no purchasing. This is causing some experts to forecast that there will be a much more unpredictable mortgage rate environment than in the past couple of years.
How the Federal Reserve's response to inflation can affect mortgage rates in other ways
In addition to the Federal Reserve scaling back on their purchasing, they are planning to raise the federal funds interest-rate three times over this year. The federal funds rate doesn't have a direct effect on mortgage rates but is more likely to be influenced by movements in long-term bonds yields including 10-year treasury notes. But this still leads to expectations of interest rate hikes from the federal reserves that are integrated into long-term investments which will have an indirect effect on how mortgage rates will go.
Some analysts are projecting that even after the Fed pulls back on their purchasing of MBS they could still be buying around 60 billion in mortgage-backed securities to help maintain their portfolio size. Analysts are projecting that the Central Bank might choose to shift some of their money toward buying treasuries instead as they may not have the same interest in preserving a mortgage-backed portfolio.
These moves are said to be predicted to shrink the Central Bank's portfolio of MBS which can be riskier investments. This move would affect the reduction of liquidity in the mortgage market even further.
How can qualifying for a mortgage soon become easier despite these changes?
Higher interest rates have already had a significant impact on reducing the volume of refinancing applications and this is expected to continue through 2022. Last year the Mortgage Bankers Association estimated that lenders have lent out somewhere around $2.32 trillion in refinancing loans. Over the next year, this number is predicted to drop to just $860 billion.
As a result of this, lenders will need to realign their attention toward the purchase market, meaning originating brand new loans from mortgage applicants seeking to purchase a new home.
Because of this many are expecting that lenders will search to focus on making it easier to qualify for a home loan so that they can compete for homebuyers' attention and continue to sell mortgage products.
This is said to be somewhat of a turnaround from the beginning of the pandemic when lenders began to tighten requirements for loan qualifications. When the recession began lenders implemented much stricter standards for qualification including raising credit scores and income requirements. This was partly made possible with the large volume of refinancing applications at the time.
Some are predicting that throughout 2022 it will be likely for lenders to continue offering low down payment loan options while adding flexibility to underwriting standards. These attributes will make it easier for borrowers to qualify for mortgage loans including those who are self-employed or work in what is called the gig economy.
Of course, the best course of action to take is to find a reputable mortgage broker that can do all of the loan shopping for you and find you the best mortgage product for your personal situation.
For more information on mortgage options in Mission Viejo and California please contact me anytime.
More Advice
For help finding the right type of mortgage in California please contact me at any time.