Are No-Doc Loans Still Available in 2022? – If you have a less than traditional employment situation, maybe you are self-employed, maybe you do gig work, or something similar, you may still be able to get a no-document mortgage to help you purchase a home this year.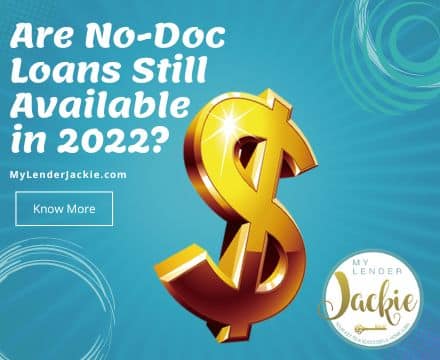 A no-document mortgage is also known as a no income verification mortgage or a stated income loan. This type of mortgage requires less paperwork for approval as compared to traditional conventional loans and has the ability to close faster.
Are No-Doc Loans Still Available in 2022?
What is a no income verification loan?
This type of mortgage is a loan that helps you to purchase a home without requiring the standard income verification documents that traditional loans do. These include pay stubs, W-2s, and tax returns. Instead, the lender will allow for other forms of verification most often in the form of bank statements to prove a borrower's ability to repay the loan.
Previously before the housing recession of 2007 and 2008, these types of loans were labeled stated income loans. This type of loan was most often used by borrowers who were self-employed because they were able to state their current income to qualify. Today the parameters are tightened to ensure that borrowers can back up with documented proof of the income that they have stated on their application.
Are these mortgages better than other types of mortgages?
Before deciding that a no-doc mortgage is the one for you, you want to make sure that you are well aware of the minimum mortgage requirements as compared to a standard conventional home loan. The most widely borrowed loans are conventional loans or other types of loans that are government-backed by the federal housing administration or FHA loans.
The difference between a conventional loan and a no-document mortgage is that a conventional loan follows guidelines set by Fannie Mae and Freddie Mac so that they can qualify to be government-backed. FHA loans are also a type of conforming or conventional loan that is popular for their lenient credit requirements with a focus on helping homeowners and those more strapped in financial situations to be able to get loan approval.
No-doc mortgages do not follow these guidelines set by the above-mentioned government entities and as such have more freedom in approval and methods of proving the ability to repay. It is worth noting that these types of loans often require a higher credit score and a higher down payment as compared to a conventional loan. This is because the lender is taking a bit more of a risk in going outside of conventional parameters to prove and verify income and loan out money.
Are no document mortgages safe?
Though a no-document mortgage does not have as strict of parameters to verify income for those hoping to borrow money, they are still subject to the ability to repay laws. This means that the lender is still required to ensure that they have taken trustworthy measures to verify the borrower's ability to pay back the loan even though they did not use the traditional recommended forms of verification.
No-doc loans that are still available in 2022 and can be a great way for those who are self-employed or find themselves outside of the realm of traditional employment to qualify for a home loan to be able to purchase a home.
For more information on all of your mortgage options in Mission Viejo and California please contact me anytime.
If this post was helpful, these might even be more so!